In addition to Individual Writing instruction, the Writing Department offers a number of small-group workshops on specific aspects of writing. This term, the Writing Centre will offer online, synchronous writing workshops, beginning Tuesday, September 22nd. Each workshop will be conducted via Zoom software (links will be posted the week of the workshop ).
Titles, descriptions, dates, and times are posted in the Events Calendar.
Visualizing Your Essay with OpenShot
October 21, 2020 @ 11:45 am – 1:00 via Zoom

What would your essay look like as a 60-second video? Consider possibilities with the open-access video-editing program OpenShot, available for PC and Mac. We'll also examine infographic applications (e.g., Canva).
Revising Your Sentences
Thursday, October 22nd, 1:30 – 3:00

Offer your reader a precise, clear, and distraction-free reading experience.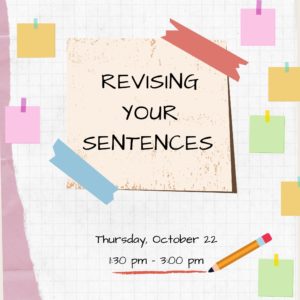 Engaging Argument:
Making Academic Writing Move!
A special workshop for international students
Thursday, October 29th, 11:00-12:30 (Zoom link to follow)
Led by Dunja Baus
Learn strategic moves in essay writing, feel confident about how to formulate a thesis, and learn how to recognize the moves of argument so that you can build your own.